In this post we will talk about the different ways you can learn to signwrite and what skills you need to have.
How do you learn how to signwrite?
Traditionally, signwriting was taught via an apprenticeship or a technical course at college. Signwriters could often be seen at work on the high street working on shopfronts or pubs so it was easier to have an awareness of the types of skills required.
In our current, digital age there are fewer opportunities to learn in this way, but you can still learn to signwrite in the following ways: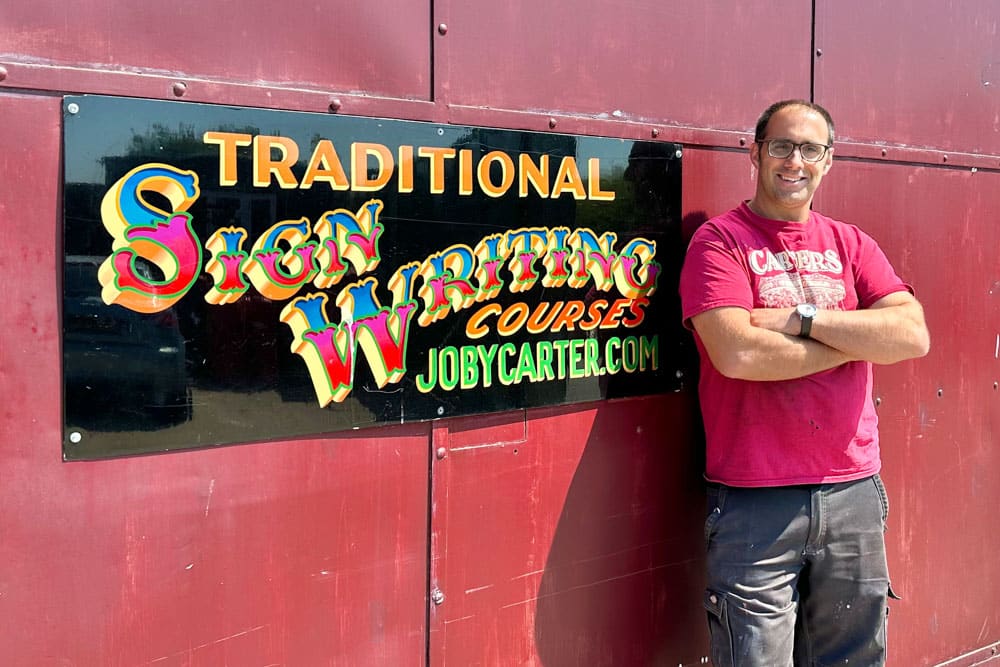 Signwriting books
You can gain an understanding of some of the basics of signwriting from books. Joby Carter has published a book sharing lots of signwriting tips learned after a lifetime of signwriting and teaching signwriting 'Signwriting tips, tricks and inspiration'. His second book 'All the fonts of the fair' includes more inspiration and tips for those looking to create their own hand painted letters.
Learning to signwrite from other signwriters
Traditionally, many signwriters would learn or take inspiration from their peers and while you don't see so many signwriters at work on our high streets, you can see them sharing their work on social media sites such as Instagram.
Joby says:
"On my workshop courses I always see a wide range of professions and people that want to learn how to signwrite ranging from graphic designers to landscape gardeners. Some want to add to their skill set, some want to start a new career. Many just want a fascinating week learning a new skill that might become an enjoyable hobby."
The following signwriters are all people who have completed Joby's five day traditional signwriting course and use his techniques for a variety of different signwriting projects:

Signwriting meet-ups and events
The Letterheads community often hold meet ups for anyone with a love of signwriting and hand painted lettering to share tips and experiences. This video was filmed after a Letterheads meet up at Joby's restoration workshops.
Signwriting courses in the UK
There are lots of different signwriting courses, both online and in person. While online courses are a convenient way to get an overview of the basics, learning the craft in person can have many more benefits. Joby Carter is the UK's most prolific signwriting teacher having taught thousands of people from all over the world how to signwrite over the last 17 years.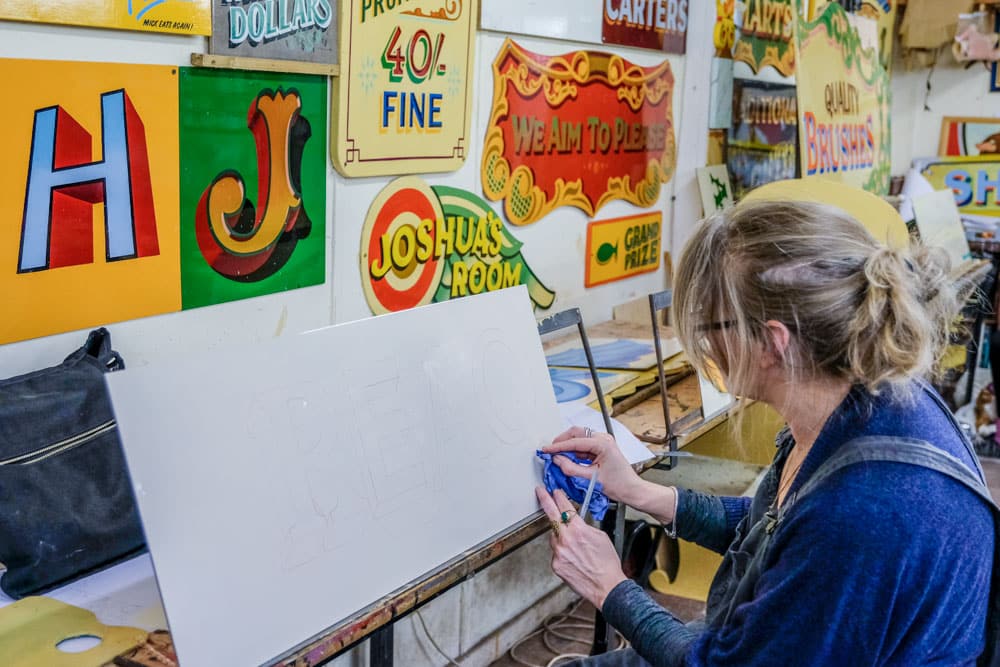 By learning the fundamentals of the craft from someone who is highly experienced, you ensure that you learn the right way which can save you time and prevent costly mistakes with materials.
Joby says:
"I teach signwriting in person with groups of 15 students in my workshop. By far the best way to learn to signwrite is to be in the room with me where I can pick you up on where you're going wrong. From time to time, I do a beginner's course online, but that's really a taster to encourage you to learn more about signwriting.
I can teach you so much more in 40 hours in person than if you watch 400 hours of me signwriting online as I can tell you where you're going wrong.
The beauty of learning in person with me is that you'll hear my tips firsthand and then I can watch while you put them into action. A little correction and refinement as you learn is so valuable in ensuring you learn the skill effectively."
View this post on Instagram
But be warned: anyone who attends will have a newfound love for letterforms and hand painted letters!
What skills do you need to be a signwriter?
Creating hand painted letters in a variety of styles is a craft that takes a lot of practice. It can begin with a love of letterforms but also needs patience to perfect and master the technical skills required. You'll also need plenty of imagination and creativity to develop your personal style for bespoke projects and to know when to break the traditional rules of letterform design and when not to.
If you are scaling up letters by hand, then basic maths skills are needed to help you accurately recreate the lettering.
Joby says:
"When I teach signwriting it's very methodical. I have come up with a way to get maximum results in the short time given. I emphasise the importance of the Roman alphabet. In doing so I make students appreciate how so many alphabets then build on the Roman structure and how important that is. (Don't randomly make S*it up as a novice basically!). I also have a way I teach to perfectly work out where the block and shadows should go."
If you have a creative eye and are passionate about letters then a steady hand is also useful to enable you to paint straight lines without using masking tape, although this skill will develop once you have learned the right techniques and are using the right brush.
View this post on Instagram
Find out more about signwriting with Joby Carter
If you'd like to understand more about the traditional techniques of signwriting you might like to read Joby Carter's book 'Signwriting tips, tricks and Inspiration' or come to one of his workshop courses.